The typical humid weather of the North usually takes place around February to April. At this time, the humidity of water vapor in the air is very high, so water is often condensed and deposited on the surface of everything around them. me. An indoor swimming pool is great, but it also takes a lot of work.
In addition to swimming pools, other areas also have a large amount of evaporation that causes humid environments to be treated: jacuzzi, bathrooms, saunas (souna rooms) and in rooms with decorative lake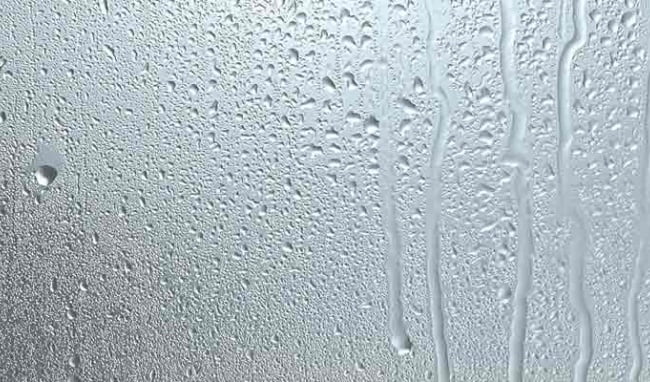 If these vapors are left untreated they will cause very high humidity in the room and cause:
– Damage to equipment, furniture and room structure due to mildew, rust phenomena (especially when combined with chlorine gas present in water treatment chemicals)
– Humid, stuffy environment affects the health and mood of users
– Dew on wet glass walls, walls and floors cause slippery falls and falls
– Loss of aesthetics reduces the value of the interior
– High operating and cleaning costs
So do not want your house to blur steam, floor surface, wall "sweat" uncomfortably wet, then the best solution for you is this.
SOLACE HOUSE HUMIDER SENSOR WILL MAKE COMFORTURE IN PUMP SPACE UP TO 300m³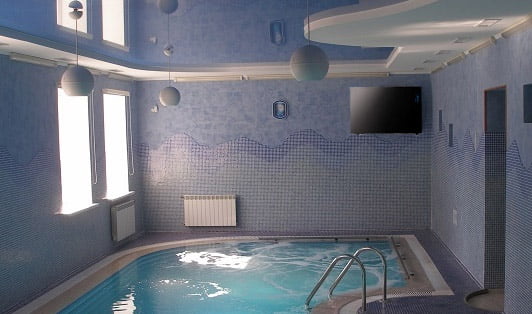 The Solace family dehumidifier is designed to remove moisture from the room air without losing warmth inside. Moist air is sucked through the base of the appliance and passed through a cold coil with a small fan. The cold coil of the water condenser chiller, is removed. The air then passes through an alternate heating coil and increases the heat in the air which helps the air create a dry and warmer one. This process works best with high ambient temperatures and when a large amount of water vapor evaporates.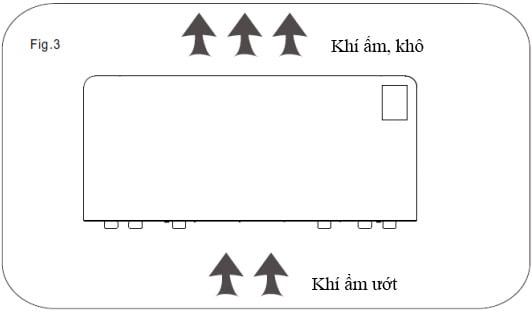 Control humidity and air
The dehumidifier is controlled by an integrated dehumidifier located on one side of the device. Target RH value can be set to range from 30% to 90%. The device will start to dehumidify when the actual RH exceeds the preset value.
Technical parameters:
| | | |
| --- | --- | --- |
| MODEL | UNIT | Solace |
| Rated Capacity at 80%RH – 32°c air | L/h | 4.3 |
| Air Volume | m3/h | 750 |
| Noise Level dB(A) | dB(A) | 47 |
| Rated Voltage/Freg | / | 220-240V~/50Hz |
| Rated Power Input | kW | 1.55 |
| Rated Running Current | A | 6.7 |
| Max Power Input | kW | 2.1 |
| Max Running Current | A | 9.1 |
| Relative Humidity | %RH | 40-100 |
| Temperature | deg Cº | 10-36 |
| Shipping Dimensions (LxWxH) | mm | 1545x240x820 mm |
| Net Weight | kg | 80 |
| Refrigerant/Volume Operation | / | R410A/1050g |
| Pressure (High Side) | MPa | 4.4 |
| Pressure (Low Side) | Mpa | 2.1 |
| Condensation Pipe Diameter | mm | 16 |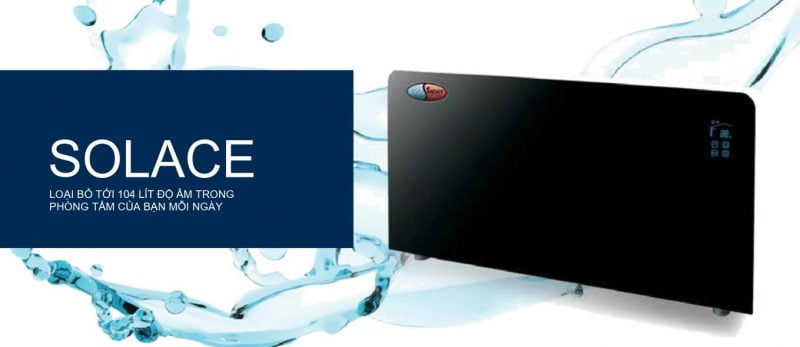 Solace removes up to 104 liters of moisture from indoor pool rooms every day. Meanwhile, indoor swimming pools without proper ventilation or dehumidification can lead to many problems such as; corrosion damage to building components and accessories, lower comfort levels due to high humidity, poor health due to high chemical concentrations in the air, musty odors and mold and increased operating costs due to cold indoor air must be provided to counteract the above problems.
The air is warmer and there is a dryer system
Improve air conditions
Reduce operating costs
Improve comfort level
Improved health and safety conditions
CONVENIENTLY INSTALLING AND OPERATING
Solace household dehumidifier is simply designed to install, operate and maintain. Simply mount the Solace on the wall in the pool room, plug it into an available energy point and direct the water to drain back into the pool. Set your desired moisture level and let Solace do the rest – it's easy!
Number of Solace dehumidifiers can vary depending on room size and usage. The installation is simple and is similar to the first one you made.
Smooth operation
The Solace Domestic nhỏ gọn và hoạt động rất êm dịu. Bạn không thể nghe thấy ngay cả khi biết nó ở đó dù đang hoạt động.
On/Off
 Press this button to start up or shut down the unit.
Hold this button for 5 seconds to lock or unlock the keyboard
  Up
 Press this button to check the relative humidity target value
Press this button again to increase relative humidity target value
  Down
 Press this button to check relative humidity target value
Press this button again to decrease relative humidity target value
Time
 When the unit is off, you can set a start-up time by pressing this button
When the unit is on, you can set a shutdown time by pressing this button
The Solace – A tiny device that transforms your home, providing the comfort and convenience you've always been looking for.