In addition to regular chemical treatment, a swimming pool has a very important role in the swimming pool's operation. This system ensures the ability to treat used or contaminated pool water and return fresh water to the pool.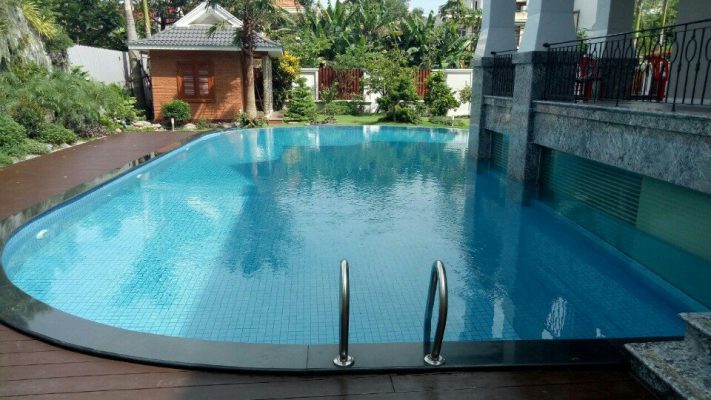 So what is the role of a filtration system? What equipment is included? How does the principle work? Installation costs and selection criteria for equipment suitable for your swimming pool. The following article will help you better understand this issue and have the best choice.
Pool filter system role
Swimming pools are an ideal environment for microorganisms and pathogens to grow and develop, harming humans. In addition, the swimmers themselves carry dirt, bacteria that pollute the swimming pool, spread germs to others such as red eye pain, ringworm, dermatitis … Therefore, the lake water treatment system. Swimming pools installed to filter water in the lake, keeping the water environment safe for swimmers, as follows:
– Disinfect and filter the dirt, impurities that the naked eye cannot see, providing safe, clean water for users. Although the majority of these microorganisms are harmless, in some cases it can affect the health of swimmers.
– Limiting the growth of algae, algae and mold. It causes slippery walls, swimming pool floors dangerous to the user. The growth of algae, algae and fungi also causes unpleasant odors, loss of aesthetics and affects the swimming process of people.
– Prevent corrosion around pool walls, plumbing pipes, pool equipment and accessories. This will cost you an additional fee to clean and maintain your swimming pool equipment.
– Reduce accumulation of sand, garbage, debris or impurities in pipes, filters, swimming pools. Clearing the tank is not an easy task, it takes time and money. As soon as the construction of swimming pools, investment in swimming pool water treatment system will help you reduce that burden.
How many types of swimming pool water filtration systems are there?
There are two main water purification systems, including:
– Filter system with pipes (traditional sand filter)
– Filterless system without pipe (smart filter)
 

Water filtration system with pipes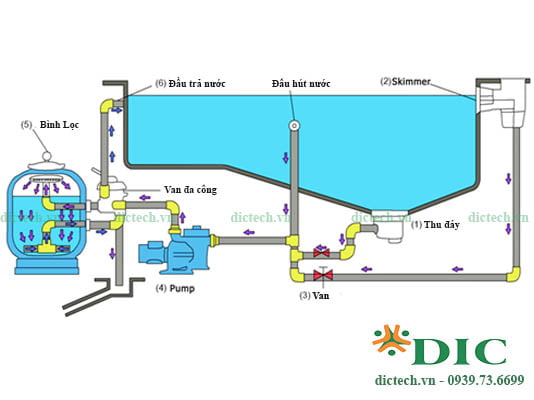 Piped filtration system is a traditional filtration technology chosen by many customers because of its efficiency in both filter quality and cost as well as easy change of filter materials and maintenance, durability of up to 30-40 years. . Especially the cost is suitable for the economy of many households. The fast filtration process, with only a period of 4-8 hours, will all water in the lake be transported by the pump through the tank and filtered all waste, dirt and returned to the clean water source to the tank.
Because of the short filter time, the cost of electricity consumption and chemicals is saved completely. Therefore it is very important to calculate the appropriate equipment capacity. The shorter the time the water in the tank runs through the filter, the less likely it is that a sudden water failure will occur and the lower the cost of chemicals for water treatment.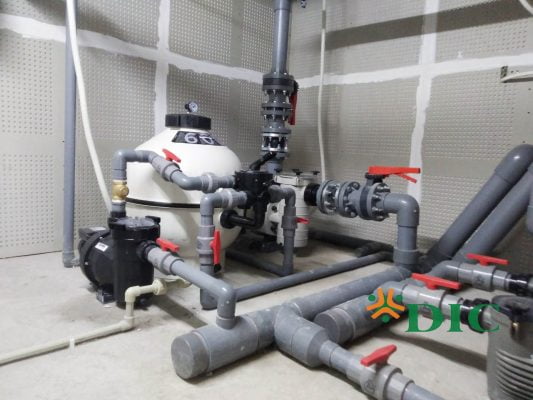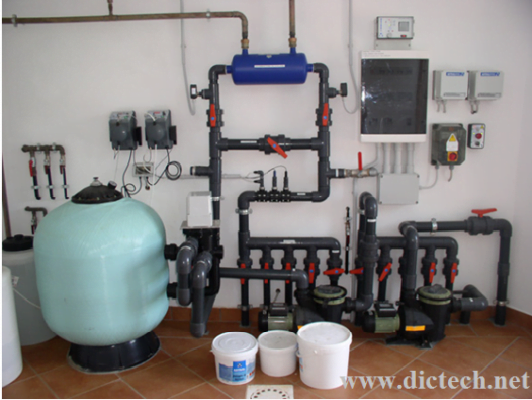 Equipment included in water filtration systems
Sand filter: Filter is made according to new technology, with the main material including artificial plyester resin and fiberglass with high pressure from 2.5 to 6 bar (according to the standard of each product. ). In addition to being able to simply replace the filter, there are designs for tubing, washing, rinsing, backwashing features, a pressure gauge in the tank, and a lens design to observe the filter's filter.
Pump: the first effect is to pump water from source into the tank to supply water for the initial operation of the pool. Then suck dirty water from the bottom of the tank and pass the water pipe into the pool filter for the treatment. The central electrical cabinet system controls all swimming pool filtration equipment to ensure smooth and perfect operation.
Piping system, valve: Water return effect.
Accessory equipment includes: the skimmer works to prevent all waste entering the filtration system, jet massage increases water pressure in the lake, cross-wall pipes connect pipes together, bottom collection cap and bottom dirt sizing into the filtration system.
Pipeless water filtration system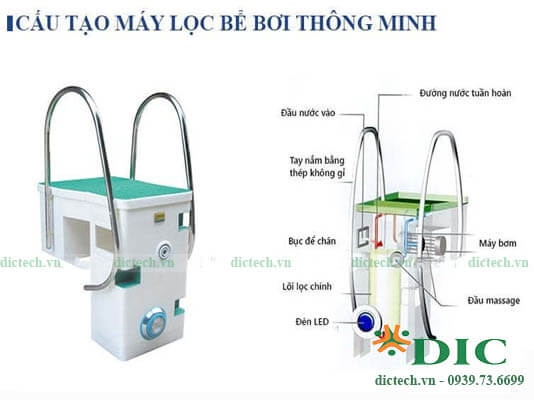 Smart pool filter is a pre-made circulating filter system in a combination form integrating many functions such as chemical pump, filter column, valves, pipes, LEDs, ladders … Only one device is needed. can undertake many jobs, making it easier for the investor to operate. This product is suitable for small scale swimming pool projects, family pools …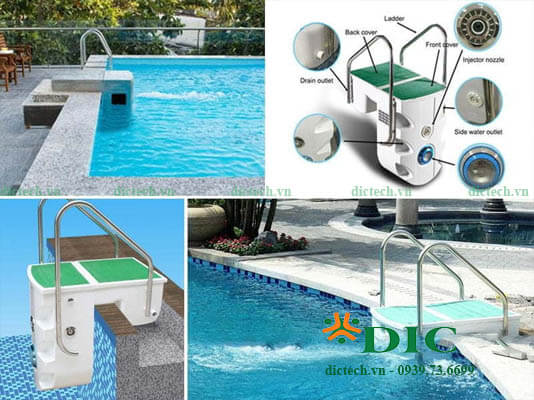 Benefits of installing a smart filter:
♦ The ability to filter quickly and effectively.
♦ Save water pipeline costs.
♦ Compact design, does not occupy much area.
♦ High chemical resistance, absolute waterproof.
♦ Do not waste water to avoid leakage to the outside.
♦ Easy construction, installation, replacement, maintenance of equipment. Criteria for selecting the installation of the filter system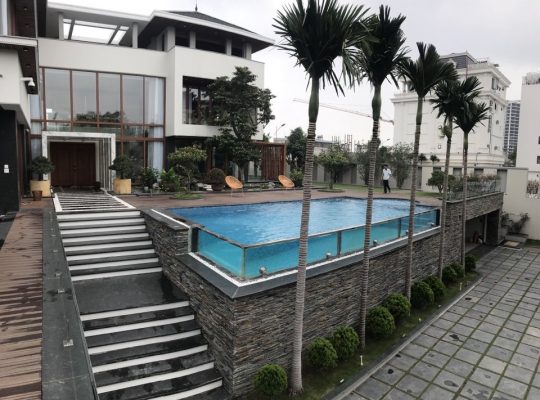 Factors to consider when choosing to install a water filtration system for a swimming pool:
Cost: It is an important factor deciding which system you will choose. Each family has their own budget, large or small scale construction works to choose the filtration system. Therefore, to optimize costs, you should consult the counselors and family conditions and make the most reasonable choice.
Pool size: A small-sized swimming pool should choose equipment with a moderate capacity, enough to use to avoid wasting money. In contrast, a large swimming pool should choose equipment with a large capacity enough to meet the filtering requirements, ensuring efficiency when used without having to replace and repair later.

Water source for the tank: Currently there are 3 water sources for the main tank including: tap water, sea water, well water. Each of these types of water must come with a different water treatment system and swimming pool equipment system to ensure the equipment is used efficiently and long-term in the underwater environment.

Location: For small-scale indoor, rooftop and overhead swimming pools, DIC recommends choosing a smart pool water filtration system to reduce pipeline costs to save an investment. As for large-scale ground swimming pools, sand filters should be installed for high filtration speed, durability, and guaranteed water quality.
Functions of swimming pools: Depending on the needs, preferences as well as requirements of the swimming pool, the family can invest in swimming pool equipment such as upstream swimming system, hydraulic massage system; Decorative special lighting system … to help the swimming pool space meet the demand during operation.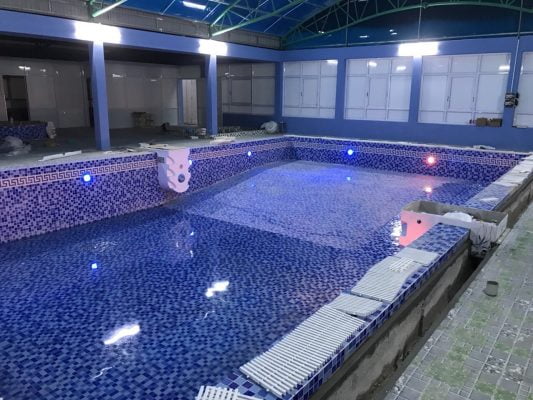 A reliable address when buying water treatment equipment in particular or swimming pool equipment in general.
DIC INVESTMENT JOINT STOCK COMPANY is proud to be a prestigious address providing many essential equipment for swimming pool water treatment systems such as sand filter, bottom wall return, filter pump, skimmer …
We have been constructing thousands of swimming pools projects, large and small nationwide. The equipment we provide are from famous brands, reputable, quality, making customers satisfied. Along with the quality is the competitive price with the best care and warranty.
DIC INVESTMENT JOINT STOCK COMPANY
Add: no 252 Le Trong Tan, Thanh Xuan, Ha Noi.
Hotline: 0939.73.6699 or 0964.394.360
Website: http://dictech.vn