Nowadays, water resources play an increasingly important role in human life, along with ensuring the quality of domestic water is one of the difficult problems. The reality shows that there are still a lot of water sources for domestic use that often happen when the quality standards are not met, causing a series of risks for users such as poisoning, rashes, pimples In the long term, highly toxic components such as lead, mercury, arsenic, heavy metals will accumulate in the human body, causing liver, kidney, even cancer, … to thoroughly handle this problem. There is no other solution than installing a water treatment system.
DIC applies many different water treatment technologies for specific uses.
Design consulting, supply and installation of upstream water filtration systems for households:
DIC design consulting for customers to choose different input water filtration technologies to remove sediment, impurities, remove arsenic, remove heavy metals, reduce water hardness, …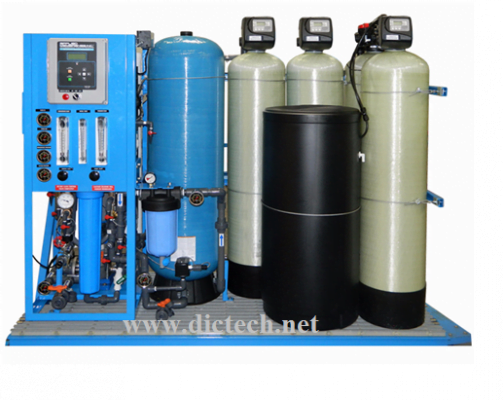 With this system, it is possible to filter and treat input water for total water supply for apartments, villas, wells, and wells. The effects of this system: Descaling to 10 – 1micron with coarse filter column.
Remove chemicals, pesticides, excess chlorine, odor, … with activated carbon filter column.

Remove arsenic and lead with a filter column with specialized arsenic filter material.

Reduction of heavy metal hardness (water softener) so that the upstream water supplied to the hot water system does not form deposits, with a filter column with negative 

Cation particles absorbing heavy metals.
Design consulting, supply and installation of drinking water filtration systems directly at the tap.
   Potable water at the tap must meet the strictest standards of drinking and bottled water standards. The filtration system must completely remove impurities, sterilize the water source, … Therefore, the pure water filtration technology at the tap uses RO filtration system, with the size of the micro filter from 0.0001 – 0.001 µm. Water is pumped through the RO membrane by high pressure, impurities, dirt, and harmful substances are completely removed to create a pure water source that meets drinking and bottled water standards.
    DIC can provide passengers with RO water purification systems with different capacities to meet different requirements from households to buildings, hotels, …