INDUSTRIAL ELECTRICAL CABINET
 DIC is a consulting unit to design and install industrial electrical cabinets, automatic electrical cabinets and provide customers with technical solutions for the electrical and automation industries. With advanced machinery systems, and simultaneously, with a team of technicians, skilled workers, knowledgeable in mechanics, metals, DIC Tech electrical system confidently provides all items in the field of electrical cabinets. and industrial electrical equipment.
 Our company is committed to providing customers with the highest quality products and services to bring the highest benefits to customers.
PRODUCTS AND SERVICES ON ELECTRICAL TABLES
        1. Low voltage distribution electrical cabinet
The electrical cabinet meets the mechanical and electrical specifications and requirements, the internal equipment, the support system is arranged in a reasonable and convenient way for mounting and connection in the cabinet.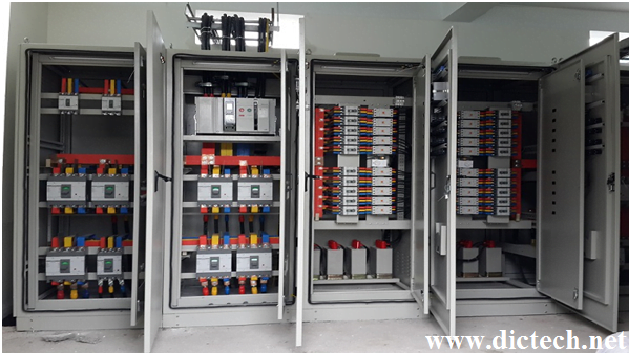 The cabinet frame is made of sheet steel, powder coated, 2mm – 3mm thick with IP 43 – IP 55 protection.

Applicable standards: IEC 60439-1

Rated voltage: 0.4kA – 50Hz

Rated load current: 100A to 6300A.
2. ATS automatic switching cabinet
ATS automatic switching switchboard has the effect of automatically switching between the main source and the backup source. The main source is usually the mains power source and the backup power is usually the generator. When the main power is lost or malfunctioned (loss of phase, loss of neutral, low voltage, over voltage ….) ATS will automatically switch to backup power. When the main source is restored, the ATS will automatically switch power back on.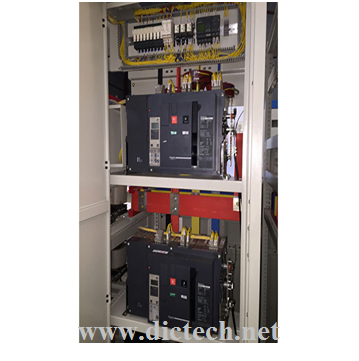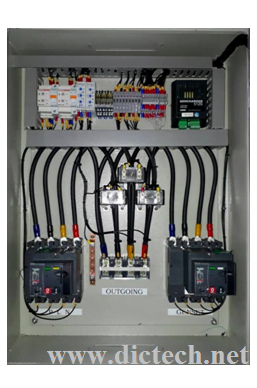 Automatically send the signal to start the generator when: grid power is completely lost, phase out, mains voltage is lower or higher than permissible value (this value can be adjusted), the switching time 5-10s.

– When the utility power is restored, the ATS waits a period of time (10-30 seconds) to verify that the mains are stable and will transfer the load to the mains. The generator turns off automatically after 1 -2 minutes of cooling run.

– Ability to operate automatically or manually. – Adjustable switching time.

– There is an indicator light system.

– It is possible to install the function to automatically start the generator idling 1-2 times a month on a specific date and time. 
3.Light control cabinet
Lighting control cabinets made by DIC according to IEC-60439-1 standard for street lighting, flower garden lighting, public areas, office lighting, supermarkets …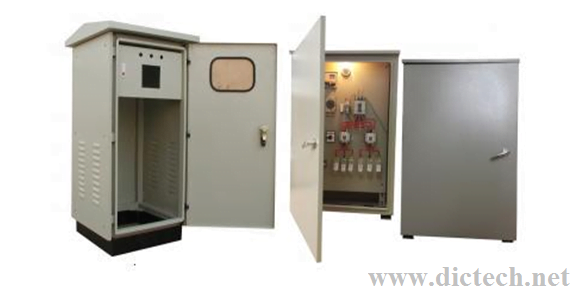 – Electric cabinets protect over current by Aptomat or fuse, using time switches (timers) according to the time of day, week to switch the contacts to the lamp.

– The cabinet has working modes: All lights on, saving mode off 1/3 or 2/3 of the lights and all lights off.
4. Reactive power compensator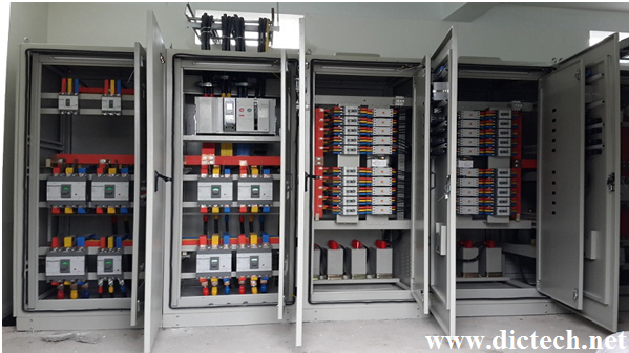 – Capacitor cabinet works to increase the power factor (cosφ) by using a compensating capacitor as a reactive power generator. Compensation set consists of many parts, each part is controlled by Contactor. Opening or closing the Contactor will change the number of capacitors operating in parallel.A relay that controls the power factor of the electrical network will open and close the Contactor thereby making the power factor of the whole network change change.

– The cabinet is made of sheet steel, powder coated, 1mm – 2mm thick with IP 43 – IP 55 protection.

– Compensation capacity range: 50 kVAr – 1000 kVAr

– The electric cabinet can be controlled by either Automatic or Manual mode.

– The cabinet can use the reactor to reduce the starting current when switching capacitors or using other equipment depending on the requirements of the customer.
5.BMS control cabinet for building operation
BMS electrical cabinet is a synchronous cabinet that controls and manages all technical systems in the Building such as electrical systems, domestic water supply systems, air-conditioning, environmental warning, security, fire alarm. etc…, ensuring that the operation of equipment in the building is accurately and timely determined.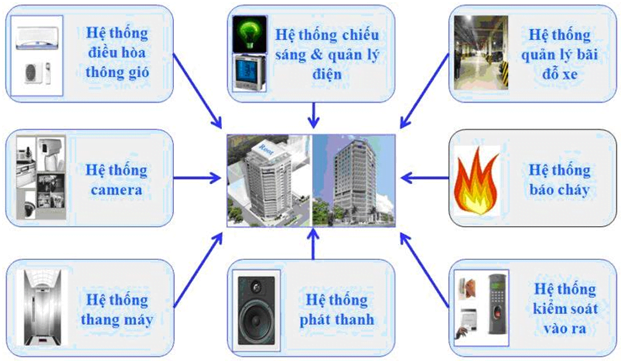 Tính năng của BMS
– Allows utilities (smart devices) in the building to operate synchronously and precisely according to the operator's request. Allows control of building applications via cable control and network protocol.
– Connect technical systems such as security, fire alarm, … through the system's open interface port with interface languages ​​according to international standards. – Monitoring the air environment, human working environment.
– Synthesize and report information.
– Warning the problem, giving timely warning signals before the problem.
– Data management includes program editing, database management, graphics editing program, data storage and backup.
– Flexible, scalable BMS system with solutions, ready to meet all requirements.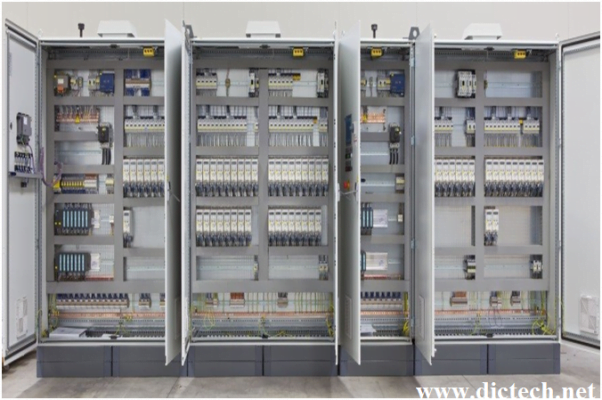 Electrical cabinets BMS
6. Electric cabinet controls the fire pump
Fire pump control cabinet is to control automatic or manual opening / closing of fire fighting water pumps when there is a fire, explosion, fire incident in buildings, factories … so that the pressure is always maintained. the water rate in the fire fighting pipeline reaches the required value.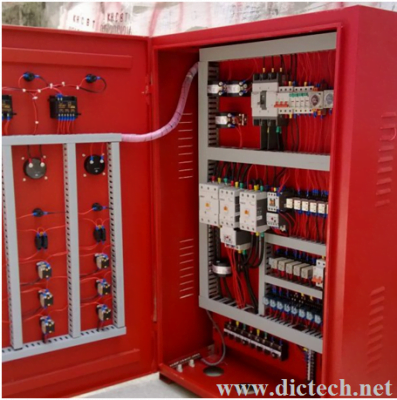 Electric cabinet controls the fire pump
7. Pump control cabinet for clean water supply
With the function of increasing pressure and maintaining pressure in pipes to supply water to each household using, need a booster system and maintain pressure. Therefore, users need to install a pressure control cabinet for the machine to operate stably and increase the pressure in the pipeline, design the electrical cabinet according to the water pump system and the water supply operation according to the production model. business output per unit, then up savings closet.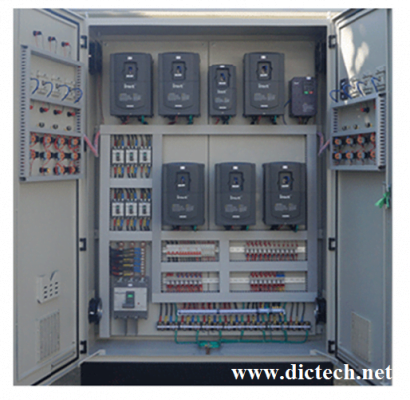 Booster pump control cabinet
Controlling water supply pump and increasing water pressure by inverter, operating according to pressure sensor. Depending on the amount of water to be supplied and the maintenance pressure, the appropriate pump and the inverter will be selected for the system.
8. Engine starter cabinet
Motor control cabinet is used to control and protect industrial motors / motors, factory motors, production lines, exhaust fan systems, domestic pump systems, fire pumps, booster pumps , Chiller… Select engine start, control and protection modes depending on customer requirements and load type such as direct start, star-delta starting, soft start, inverter …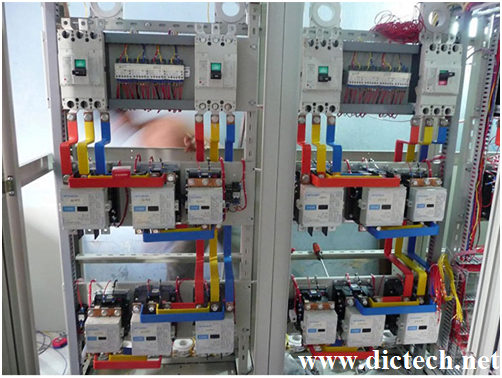 Switchboard for starting 3-phase delta-star-converting motors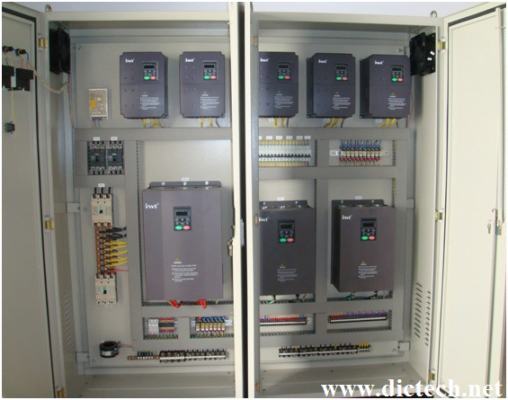 3-phase motor starter cabinet by soft start / inverter
For other functional cabinet models, please visit the link to learn more about other electrical cabinets and order:
http://diencongnghiepdic.com/545-lap-dat-tu-dien-cong-nghiep.html
Our commitment:
– 100% new goods with correct origin
– Product warranty from 18-24 months depending on each type of function cabinet.
– Free technology design and solution consulting for customers.
– Warranty maintenance to replace equipment within 24 hours. Please contact us directly for advice and best quotation.