Today, swimming pools combined with a jacuzzi are an ideal design to bring luxury to small pools at home. The combination of swimming pool and hot tub helps to relax while saving construction costs and maintenance costs as well as space used.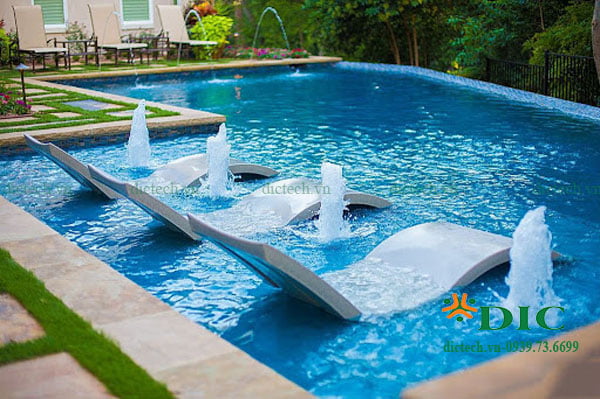 The sound of running water from the poolside waterfall will dispel fatigue, reduce stress, it also helps you massage the shoulders, neck, neck. The blue color of the water makes you feel peaceful, the flow of water from the jet and the force of the water pushes the skeletal muscles of your body to feel instantly relaxed. The combination of two forms of swimming pool and jacuzzi helps you relax, entertain, and comfortably watch the surrounding space.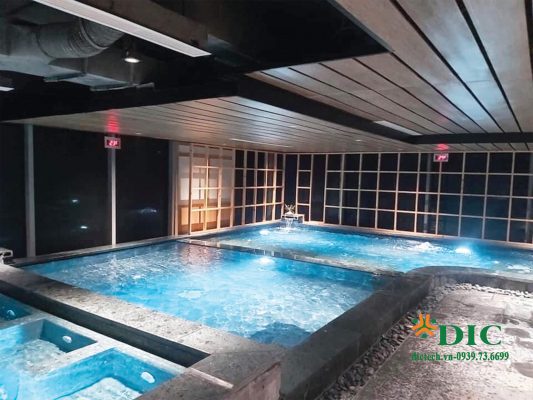 The construction of a jacuzzi combined with a swimming pool will be designed with the right shape and area to help users feel more comfortable to use. With true relaxing facilities and water on the premises of the swimming pool, a jacuzzi with a swimming pool is a superior solution when you want to use massage water right at the pool.
– Constructed and built with reinforced concrete structure, the jacuzzi is sturdy and durable with a service life of many years.
– Height of jacuzzi: 70 – 80cm.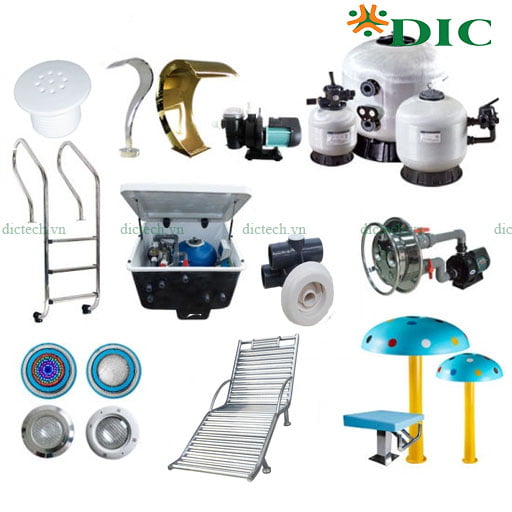 – In accordance with the needs of the use and the nature of the jacuzzi, fully equipped with accessories such as:
+ Hydraulic pump.
+ Jacuzzi lamp
+ Air blower
+ Jets massage
+ Heat generator, pipeline system …
+ Mosaic tiles.
– These jacuzzi design models are also equipped with jet massage combined with hydraulic pump to create strong air and water flow that directly impact on the body areas to help relax.
Prestigious jacuzzi and swimming pool design and construction company
Currently, there are many companies that build jacuzzi, swimming pools, but in order to choose a reputable business that provides installation consulting services, you need to consult and search from many sources. Thereby helping you to choose a suitable construction unit in terms of price, service as well as good construction quality.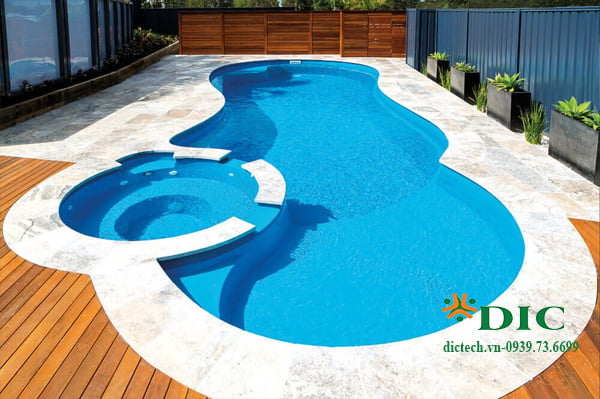 The jacuzzi helps to create a sense of relaxation, comfort and viewing of the surrounding space. DIC Company is one of the reputable technology construction companies, has been building many swimming pools combined with jacuzzi, spa to provide swimming pool equipment for hotels, families, resorts,…. If you have an idea, need to build a jacuzzi combined with a swimming pool or have an idea of ​​investing in spa services, please consider contacting DIC Investment Joint Stock Company at the information below:
DIC INVESTMENT JOINT STOCK COMPANY
Add: no 252 Le Trong Tan, Thanh Xuan, Ha Noi.
Hotline: 0939.73.6699 or 0964.394.360
Website: http://dictech.vn