Heat Pump Heat Pump is popular and widely used in the market today. Owning a hot water heat pump for a family is nothing different and does it better than other water heaters. The following article will bring you a new look, the outstanding advantages of the heat pump heat pump, a long-term investment for the future.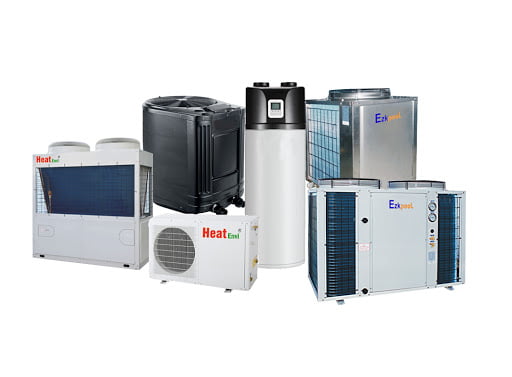 Heat Pump
 Heat Pump is a device that heats water with natural energy from the air and energy from the sun. Heat Pump works based on the principle of thermodynamics, use a small amount of energy to absorb and adjust the temperature, moving it to the desired place from hot to cold or vice versa.
Hot water is formed by absorbing heat from outside air to heat water at a low temperature of 55–60 degrees C and is three to four times more efficient than using conventional electrical energy such as a heater. , direct heating.
The installation cost for a heat pump will be about 2–3 times more expensive than conventional gas heaters, solar power, boilers, oil, and gas, but with greater efficiency and efficiency. Used more widely such as: hotels, schools, hospitals, gyms, beauty salons, spas, …
The advantages of a heat pump make you invest now
75% energy saving: It is heated by absorbing a lot of the available heat in the air, saving up to 75% of the energy consumed.

Safe for users and friendly with environment: No burning, exhaust air, CO and other harmful gases. Electricity and water are completely separated, ensuring there is no danger of leakage of electricity that endanger users. The system is controlled at the outlet temperature (about 39 to 55 degrees C) by thermally stable automatic phase valve, so safe for both children and the elderly when using it will not worry about burns.

High durability, no special maintenance: The device is machined and manufactured in corrosion-resistant titanium, and equipped with engines and components such as compressors and valves from world-famous brands, Combined with corrosion-resistant materials, helping to increase the service life of the machine from 12 to 20 years. Just simple installation, the machine can control water temperature, water level and cycle automatically, with no need of special maintenance.

Use it whenever you want: It doesn't depend on sunny or rainy weather like solar water heaters. Regardless of the weather conditions, it is possible to generate hot water from the air around it, even working well in humid, heavily rainy climates.

Economic problem:
The installation cost for a heat pump will be about 2–3 times more expensive than conventional hot and cold water heaters, boilers, oil, and gas, but it is more efficient and is used. more widely used. Lower operating costs compared to appliances that use electricity or gas that generate hot water.
This is a long-term investment in future utility life, don't wait without having to own your family a highly functional heatpump water heater. Let us help you!
DIC INVESTMENT JOINT STOCK COMPANY
Address: No. 252 Le Trong Tan, Thanh Xuan, Hanoi.
Hotline: 0939.73.6699 or 0964.394.360
Website: http://dictech.net