Established at the end of 2014, officially operated from the beginning of 2015. DIC Investment Joint Stock Company operates in the field of industrial electricity, electromechanical construction and technology system with the business motto "Quality, reputation, conscientious ".

With the background of a team of industrial automation electrical engineers, experienced in the environment, DIC has provided customers not only with high quality products but also to provide customers with the best technology solutions. Although only nearly 5 years of establishment and development, with a long experience of engineers working in factories and industrial parks, strategic cooperation with large foreign firms such as Astralpools, Kripsol, Emaux, Schnieder, ABB, Supaflex, Xider, …
DIC company is gradually dominating and responding well to high-end markets in the field of water treatment, heat and cold and automation technology solutions in all fields of electromechanical engineering. and industry.
Include:
               
Heat pumps for civil and industrial purposes.

Equipment for water purification and treatment for living, swimming pools, aquariums, fountains, …

Switching equipment, industrial and civil automation.

    
     With diverse origins from EU, G7, UK, Turkey, Israel, India, … Our products have been distributed to more than 60 agents across the northern provinces. With great efforts and efforts, on September 5, 2019, DIC Investment Joint Stock Company was granted the certificate of "Construction capacity" by the Department of Construction of Hanoi City, No. HAN-00029795, issued together with Decision No. 957 / QD-SXD dated August 27, 2019 of the Hanoi Department of Construction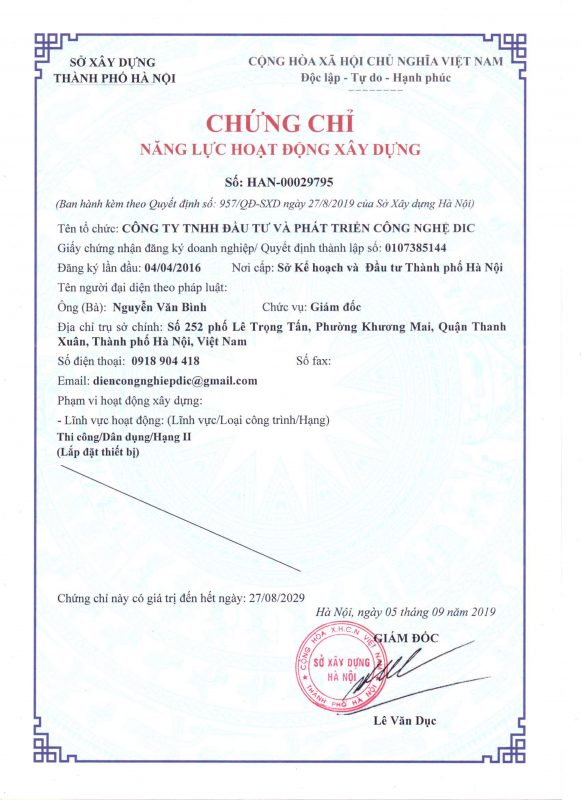 Customer attention plays a great and positive role in the company's development. On behalf of all officers and employees of DIC Investment Joint Stock Company, we express our deep gratitude to your contributions in the past time. We look forward to continuing to serve customers with the best products and services and accompanying the development of your company.
Sincere thanks for your attention Customers to our products and services ./.