Swimming is one of the sports that is loved by all ages with benefits to health and height development. Therefore, nowadays there are many swimming pools in Hanoi that help you to have many choices.
Army guest house swimming pool is located at 33 Pham Ngu Lao. In the large campus of the Ministry of Defense, this swimming pool has created a complex complex that makes the scene here more impressive and attractive.
However, in the process of using and operating, there are many deteriorations that need to renovate and repair, and at the same time, build more swimming pools to serve the needs of customers. DIC is the unit that provides the construction and installation of electrical systems and water supply and drainage for swimming pools during the construction process.
The swimming pool includes an indoor pool located on the 2nd floor of a multi-purpose building and an outdoor swimming pool located on the premises of the Department of Defense. With an area of ​​20m wide and 50m long, meeting all swimming standards of everyone. Not only that, all equipment has been invested in a large scale and modern to help the swimming pool achieve the best quality. Coming here, you will feel comfortable with the green space created by surrounding trees to make the swimming pool more beautiful.
In addition to an adult swimming area, the army guest house swimming pool also designed a swimming space for children. In the children's swimming pool area, a skateboard, a slide model is very attractive to the children. All areas in the pool are equipped with swimming floats, depth signs and full separators so it is very safe.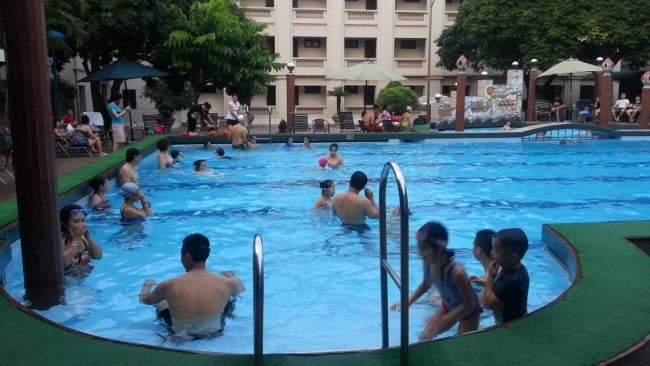 With the renovation and new construction of this swimming pool, it will bring convenience and comfort for customers when swimming. DIC is confident to be a supplier of quality swimming pool equipment at competitive prices. You contact phone number 0939.73.6699 for advice and construction of the best swimming pool.