You want your house to be unique, sparkling with bright lights but don't know how. With just a few water lights to help you solve this problem, the landscape does not change and the house becomes more beautiful.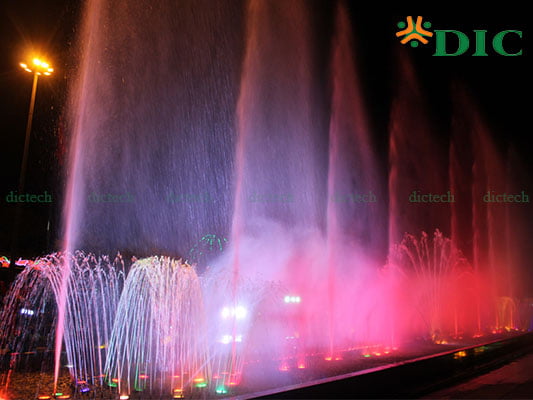 Concept and structure of underwater LEDs
Led underwater lights are equipment to decorate landscape architectures such as fountains, artistic water music, miniature gardens, swimming pools, aquariums … Specially designed to be able to operate in Water Environment. The entire lamp body will be submerged in water or can be placed in a humid environment. In addition, it can be submerged in the ground for lighting, so the light must be completely prevented from spilling or seeping inside. There are usually 2 main types of LEDs for lighting that are monochrome LEDs and RGB-multicolored LEDs.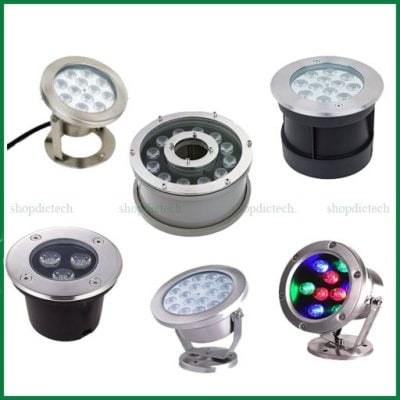 Led underwater lights are very durable, friendly with the environment. Current Led technology does not contain mercury for sharp light in compliance with World Lighting Equipment Association (RoHS) regulations.
>>> See more: The DIC Art Fountain Led Projects have done
The structure of the underwater LEDs:
– Body and lamp cover are made of 304 stainless steel, or it can be anti-corrosion, anti-rust and super durable in the water environment.
– Lamp manufactured according to IP68 standard, which is a standard for equipment that can be used under water. IP6x: is dustproof standard. IPx8: is a standard of continuous immersion in water under conditions set by the manufacturer.
– The voltage used is 12V or 24V to ensure safety during technical installation and use in water environment. The AC or DC power adapter of 12V, 24V is an optional accessory to meet the needs of customers. Different from conventional lights using 220V voltage is very dangerous.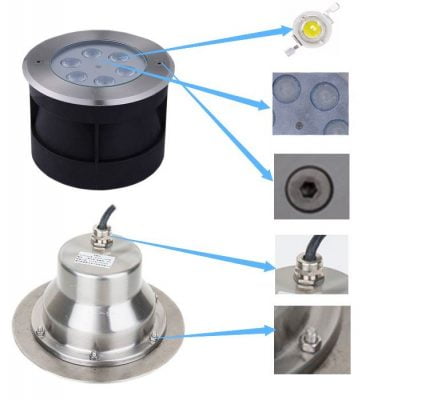 – The surface of the lamp is made of high-strength tempered glass, strong light transmission with wide light radiation, anti-corrosion, anti-oxidation. Helps light emitted LED chips without loss of luminous flux.
– Rubber gaskets are inserted at all the detail points, the key positions of the lamp and the hexagonal screws are dispersed, to ensure absolute tightness against the ingress of water into the lamp.
– Good quality led chips used for lamps such as Cree (USA), Epistar (Taiwan), Citizen (Japan), Osram (Germany), …
Classification of water lights
1.Classifying according to the shape and structure of the lamp
+ Wheel type water sound lights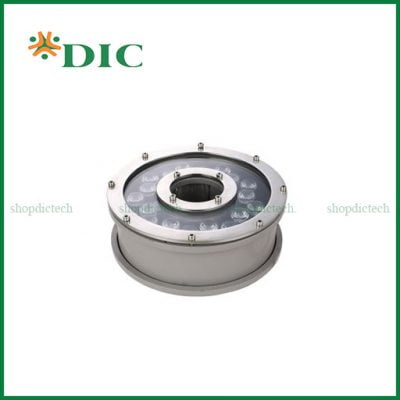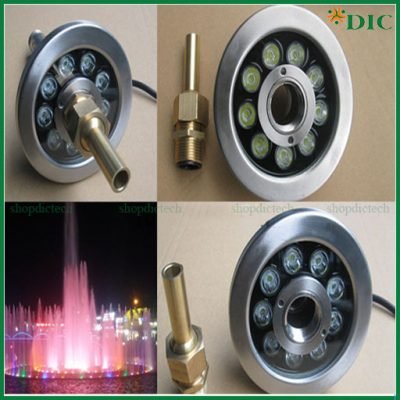 This type of lamp has a circular shape like a wheel, with a threaded hole in the center for direct mounting the water nozzle and the luminaires are arranged radially around. Wheel lights are often installed for fountain constructions, especially recessed fountains.
+ Base type water recessed lamp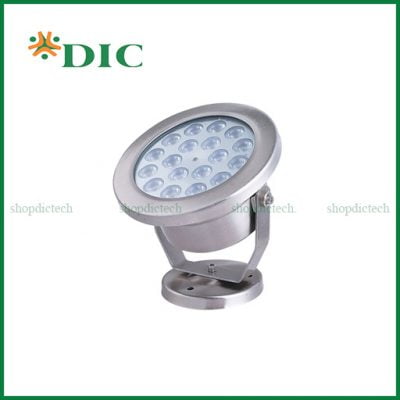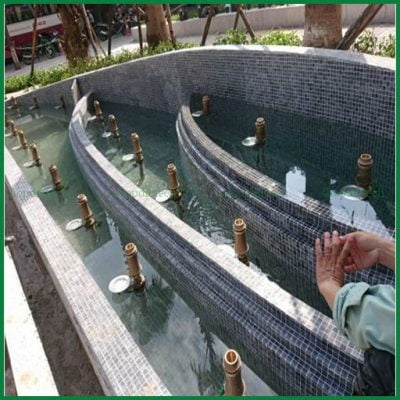 As the name suggests, this lamp has an extra light holder on the body. This base helps to screw directly to the tank wall area, bridge wall, lake shore or attached to the pipe of the fountain.
+ Led string lights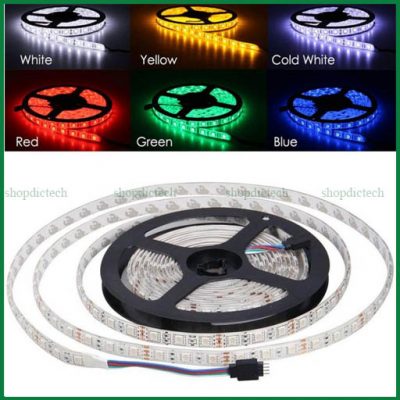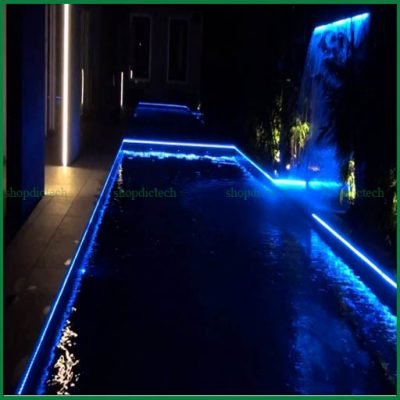 This type of lamp has the design of a flat, soft wire and has many Led chips attached on the wire. The lamp housing is a very flexible silicone resin that can flex easily. Usually installed around the wall of the fountain, the railing of the bridge or decoration for the green tree …
+ Pool light
This type of lamp can be round or square, almost similar to the leg light but the difference is that there is no base. Used for lighting installation for swimming pools.
2. Classified by color of water light
 + RGB automatic color change light
The light is preset and changes color automatically. These lamps can be programmed to change to 256 color patterns.
+ Color change lights can be controlled
Unlike the automatic color changing lights that you will not be able to interfere with the color change of the light, this type of lamp can be completely programmed as you like. Often used for water music works of art.
+ Monochrome light
Monochrome lights come in red, warm yellow, navy blue, green, pink, and warm white. If you choose this type of lamp, you should consider the correct color before ordering and installing. It is necessary to choose the correct color parameters to avoid an unsatisfactory situation when buying.
>>> Refer to the lamps HERE
3. Classification by lamp capacity
Lamp wattage is a key factor in determining the brightness of the lamp. Water-negative LEDs are not like other lamps, the power of LED lights is small but the brightness is high.
If installed for small projects such as small landscapes, aquariums, they often use 3W, 6W, 12W water-powered lamps.
If installing for larger projects, requiring more lighting such as fountains, parks, use lamps with capacity of 24W, 36W, 54W …
Led light fountains projects DIC company has implemented: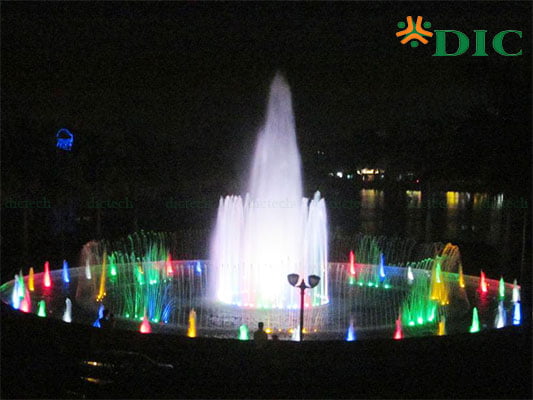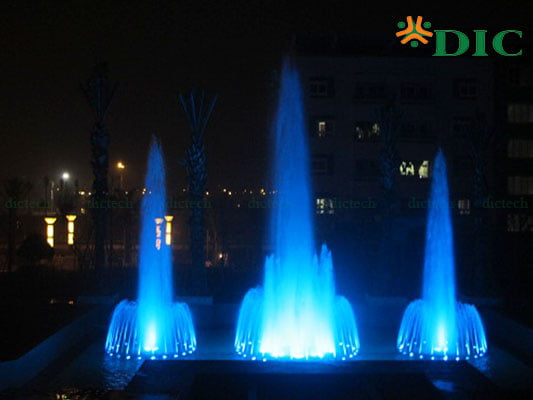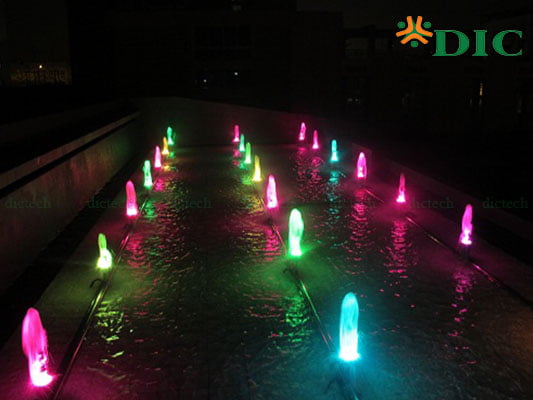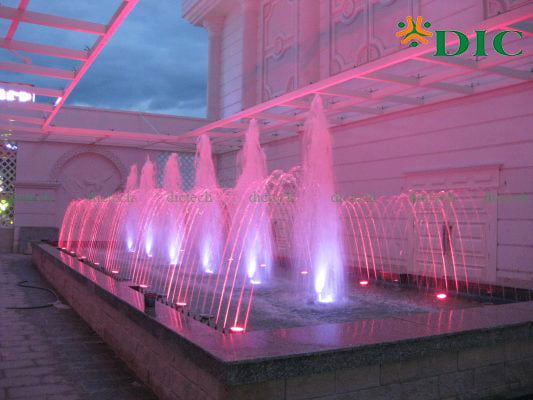 You need to choose sound water lights for fountains, aquariums, please visit the web: Shopdictech.net for advice and find yourself a most suitable product.